Almost two-thirds of Bolivia's economy is classified as 'informal', but as Kate MacLean, a senior lecturer in social geography at the University of London, points out, informal doesn't necessarily mean illegal; the IMF report providing that statistic in 2018 didn't include illegal, criminal and do-it-yourself activities in its calculations of the informal economy. Using the term 'shadow economy' to describe the informal sector, the IMF indicated that Bolivia has the second-largest shadow economy in the world.
What it means is that 62.3 percent of the Bolivian economy is not accounted for (officially); the money generated in this sector doesn't go towards taxes and social security programmes, and it rarely ends up in a bank – but that doesn't mean that it's not contributing to the country's GDP. Some minibus drivers and street vendors are amassing cash surpluses in their homes, which they then rapidly invest in land and new buildings. 
This issue of Bolivian Express explores the meaning of 'behind the scenes', but doesn't just focus on the money. First, we look into the making of movies, music and crafts by focusing on small, artisanal productions and the people behind them. Inevitably our search takes us to a different realm when we realise that the material and spiritual worlds are always inextricably intertwined here in Bolivia. For example, before attempting to climb the mountains he and his team wanted to film for a documentary, Juan Gabriel Estellano had to ask for permission from the Achachilas.
We also look at the ajayu – spiritual energy, what we sometimes call 'soul' – that drives us. Ultimately, according to local beliefs, life doesn't end with death, so we went to La Paz's General Cemetery to capture the place where our ajayu-less bodies rest. Cemeteries can be places associated with sadness and sorrow, but the city's necropolis is full of activity and decorations, where instead of being mourned, the lives of loved ones are celebrated.
Bolivia is a place full of surprises, contrasts and paradoxes where appearances can be deceiving. Behind Bolivia's shadow economy is an extremely lucrative marketplace for those who know how to benefit from it. It's something that's caused a profound and permanent change for Bolivia's different socioeconomic classes, and it can be observed during prestes with opulent displays of jewelry, alcohol and wealth – but it might not be that evident the rest of the time.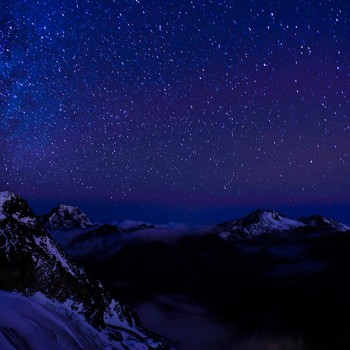 Achachilas
24 Jun, 2019 | Renata Lazcano Silva
Photos: Achachilas The cinematographic mountain experience 'We have these incredible mountains nearby. They are our jewels. People come from all around the world to do mountaineering here an...
Achachilas - The making of
24 Jun, 2019 | Achachilas
Photos: Achachilas Cordillera Real.View of the Tikimani mountain from the Huayna Potosi high camp.  View from Huayna Potosí's main road.The main characters, Sergio and Juvenal Condori. They both work...