Located about 30 kilometers north of La Paz and nearly 5,500 meters up in the clouds, ghosts of a bygone era rest, old wooden relics of a past since past. Since the 1930's, this mountain, known as Chakaltaya, was home to the world's highest ski resort. This was the place where members of the Bolivian Andean Club and other visitors could cut through the powder at an altitude high above the flight paths of many airlines, gliding through the crisp, thin Andean air on top of glacial snows. But in 2009, this all came to an end.
Many scientists consider Bolivia a climate canary-in-a-coalmine, a country with a variety of ecosystems with considerable vulnerability to the effects of global carbon emissions and increasingly erratic El Nino weather patterns. One of the first and most glaring signs of this was the rapid melting of the glacier at Chakaltaya. Bolivians watched in disbelief as 80% of its cover vanished within 20 years. By the end of the first decade of the new century its melting rate had picked up pace, and in a relative instant, 18,000 years of snow and ice were gone.  
The buildings that once housed the ski resort remain. On top of rocky, brown and black soil, the faded red and white lodge rests precariously along a ledge, its wind-worn siding fading and chipping, a shell of what was once there. Samuel Mendoza and his brother Adolfo, longtime members of the Bolivian Andean Club, still haunt the mountaintop, maintaining the property and serving as hosts to the trickle of tourists that come to this place every day to take in the views and to see for themselves the harsh truth about climate change in the Andes.
Recently, Bolivia has sadly entered the global spotlight yet again, this time marking the disappearance of the country's second-largest body of water, Lake Poopó. Another drastic result of climate change having adverse effects in Bolivia's ecosystems, it is more than unnerving to see another one of Bolivia's natural wonders disappear. Yet again, Bolivia is facing an ecological crisis that is emptying this place of its natural majesty.
In this issue of Bolivian Express, we think about the significance of appearances and disappearances in a changing world. As things come and go, the transitory nature of our experiences come into clear focus, and we set out to see what these processes mean. In writing about the Lost City of Atlantis and the stories of Butch Cassidy and the Sundance Kid, we study the ephemeral nature of legends, and how people, and in fact entire cities, can vanish, leaving those who remain to theorise about if and when those who are no longer present may reveal themselves again. In visiting the ruins of Tiwanaku and the waters of the Amazonas, we share stories of Bolivia's cultural and natural treasures, leaving one to wonder what else is hidden beneath Bolivia's surface. We hunt ghosts and search for dying languages, and meditate on where tried-and-true, old-fashioned courtship techniques have gone.
In this moment in Bolivia, the latest disappearance of Lake Poopó is surely nothing but a loss, an ecological, economic and cultural catastrophe. But sometimes, disappearances can be seen as an opportunity for rebirth, an opening of spaces for something new to appear. While this may not be in the case with the lake, or the glacier at Chakalyaya, not all disappearances are disasters. Life is full of surprises. One never knows when the next notable thing of great beauty may appear.
Paranormal Activities
25 Feb, 2016 | Hugh Ollard
The Missing Ghosts of Estadio Hernando Siles"We emerge out onto the pitch and Topacio immediately hears footsteps." &...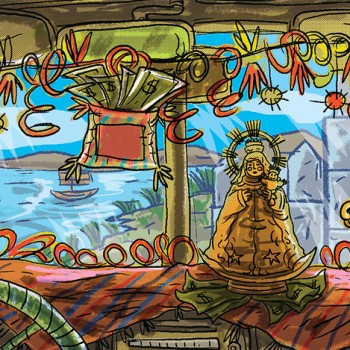 The Auto Body Experience
25 Feb, 2016 | Oliwia Rogala
"My family will open a beer and pour it all over me. For my luck. For our luck." ...