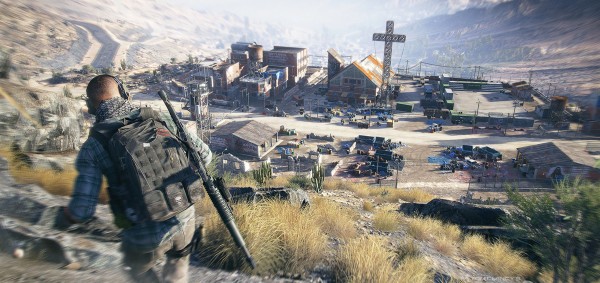 26 Aug, 2015 | Maxwell Popescu
Enterprise & Industry and Video
Explore Bolivia from your living room, but don't forget to grab your guns
Bolivia is the largest cocaine producer in the world. The vicious Santa Blanca Mexican drug cartel, a rising underworld power and global threat, has turned it into a crime-ridden narco-state. Large-scale military intervention is not the answer.
Enter 'The Ghosts', a legendary US Elite Special Operations team made up of experts in taking down criminal organisations through highly classified covert operations. Their next mission? Destabilise drug trafficking across Bolivia, assassinate high-profile targets and break ties between the Santa Blanca drug cartel and the corrupt government.
Or so Tom Clancy's Ghost Recon: Wildlands would have you believe.
This upcoming video game, from French developer Ubisoft, was announced at this year's Electronic Entertainment Expo in Los Angeles. It will place gamers in the boots of the Ghosts, leaving them free to roam and wreak havoc in a gigantic Bolivian playground.
The Altiplano, the Salar de Uyuni, the Amazon Basin and the infamous Death Road are among the locations the Ghosts will find themselves in. In order to make these virtual worlds as realistic as possible, Ubisoft conducted two weeks of research in Bolivia, consulting the likes of local officials and botanists. Such diversity of terrain will keep the gameplay fresh, forcing players to adapt their approach to the landscape at every shootout or car chase.
'I want to play it, I really want to play it!' exclaims Boris Iván Miranda, a Bolivian journalist with four years experience covering the drug trade. Watching the game's reveal trailer, this avid gamer sees something magical about exploring familiar places in a digital space.
The game will run on the latest hardware, making it difficult for an untrained eye to distinguish between the game's virtual environment and reality. However, when it comes to the story, which is supposedly inspired by the 'brutal reality' of Bolivia, Boris is not convinced.
'The idea of Bolivia being a narco-ridden state is exaggerated,' Boris explains. 'The biggest clans are in Mexico, Colombia and now Brazil. In Bolivia the clans are smaller. Many of them are familial and they only support these larger clans.'
Despite this discrepancy between the game and Bolivian reality, Boris does not rule out that the game's bloody outlook could eventually play out in the country. 'The border between Brazil and Bolivia is larger than the border between U.S and Mexico,' he says. 'Brazil is now the second biggest consumer of cocaine and its derivatives, so it's hard to tell what might happen here in the next five or ten years. Drug lords are looking towards Bolivia for new business opportunities.'
At least for now, the peaceful Bolivian coca farms are a far cry from the savage cartel shootouts and reprisal killings depicted in Wildlands. Such acts are confined to countries like Mexico and Colombia, where large cartels run the more lucrative operations within the supply chain.
Wildlands exaggerates the reality of drug trade in Bolivia and the blockbuster game could potentially harm the country's image, but Boris does not think this is something worth worrying about. 'It's only a game after all,' he says, 'and people see these things happen all the time in the media.'
It's not the first time mainstream media misrepresents a developing country. Boris recalls a controversial episode of The Simpsons where the family visits Rio de Janeiro and is subject to kidnapping by taxi drivers, muggings by children, assaults by abusive monkeys and daily interactions with an entirely bisexual male population. By comparison, the distortions in Wildlands seem less farfetched.
And yet it is possible that Wildlands will draw little media attention in Bolivia, where the latest videogames are not commonplace. According to Boris, 'In Bolivia it is easy to get copied games for Playstation 1 and 2, but you can't find games for later consoles.' In order to get his hands on Sony's latest Playstation, Boris had to fly to Miami to purchase the console.
That said, the game might boost the country's image by putting its stunning landscapes and rich biodiversity under the global spotlight. With Bolivia having a relatively low profile in popular culture worldwide, this will almost surely be the first glimpse into the country for many gamers.
For those who can look past the distorted reality and clichéd storylines of make-believe American heroics, Wildlands could provide a thrilling gaming experience, complemented by a beautiful Bolivian backdrop.
Tom Clancy's Ghost Recon: Wildlands will be released on PS4, Xbox One and PC. The release date is yet to be announced.