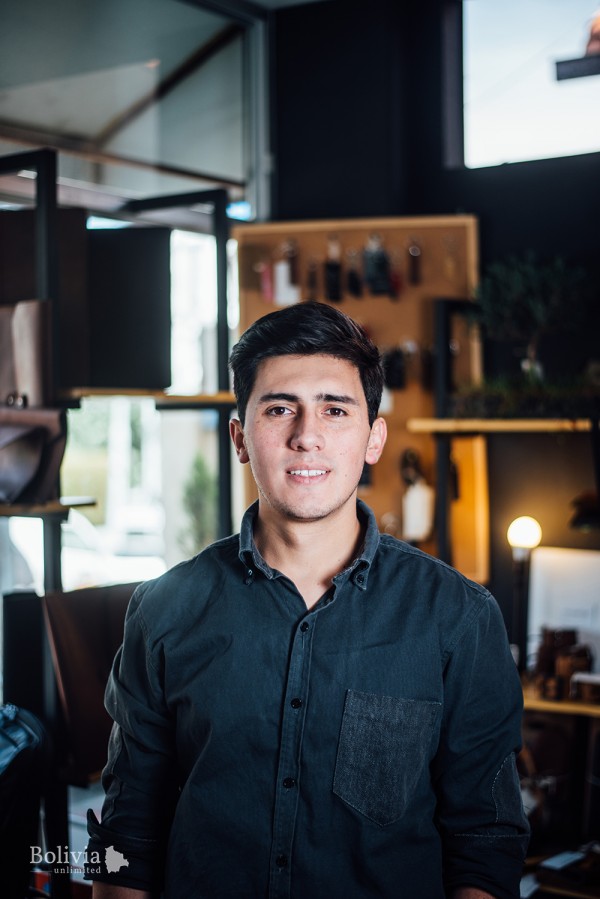 26 Apr, 2018 | Rodrigo Barrenechea
Enterprise & Industry and Reviews
Photo: Iván Rodriguez
Handcrafted Leather Goods and Travel Accessories
It is 25-year-old commercial engineer Bernardo Bonilla's dream that his enterprise, aptly named Vagabond, translates the experiences he's had during his travels abroad. When he finished his studies at the Universidad Católica Boliviana back in 2014, Bonilla embarked on a trip to France as part of an employment programme through Campus France, promoted by the French embassy in Bolivia, an eight-month trip which opened his mind to experiences and ways of life that would eventually inspire him to found his business, a shop which sells leather goods to men with all the promise of freedom and the thrill of carefree, nomadic wandering that the name suggests.
The business was conceived back in 2016 when the Bonilla family spotted a gap in the paceño market: there were so few stores which sold gifts for men that the typical go-to was to buy a nice shirt. And there are only so many times you can buy someone a shirt. So Bonilla, together with his mother and sister, sat down to brainstorm. It was clear from the onset that they would sell products for everyday use with a high level of functionality and a clean, minimalist design. Another key aspect of the company is that each product they create is 100% Bolivian, without being made from the conventional, traditionally Bolivian materials, deriving from llama or alpaca wool. And, although the leather market is relatively undeveloped here, the family's ethos has always been to produce the highest quality product, but at an affordable price.
The well-travelled Bonilla family remembers their first product, a travel document holder which itself becomes a memento, according to Bonilla: 'each wrinkle in the leather gives the item more personality and, with the passing of time, as it gets older, more aged, and wrinklier, it becomes a special, collectable item that carries with it the memories of the places it's been to.'
Vagabond is leather-goods shop that evokes the freedom and the thrill of a carefree, nomadic life.
Now, their products range from wallets and purses to tablecloths. They also create personalised products according to customers' specific requests. This was the case with Mauricio Lopez, head chef of La Paz's prestigious restaurant Gustu, who asked for a case in which to keep his chef's knives, a request to which he later added cooking-gloves among several other items. Businesses such as Huawei, Hotel Rennova, Banco Fie, Restaurante Margarita, Cervecería Boliviana Nacional, and Samsung, have similarly followed suit.
There are only so many times you can buy someone a shirt.
Vagabond is not only selling products, but is also making a social change. The business had a hand in improving the quality of life of such people as Alberto Maidana who's worked his whole life as a tailor. He'd never worked with leather before, but Vagabond trained him to create leather goods for the Bonilla business.
Among the family business' current projects, they've launched a sister-company of women's clothing called 'Slavic.' In addition to opening more branches in La Paz, they'd like to develop their brand's capacity to improve people's quality of life, and so they're currently looking for ways in which the income that Vagabond products generate can go towards a good cause.
For more information
Address: Gabriel Rene Moreno #1307, Edif. Mizutan
Tel.: +591 73015516