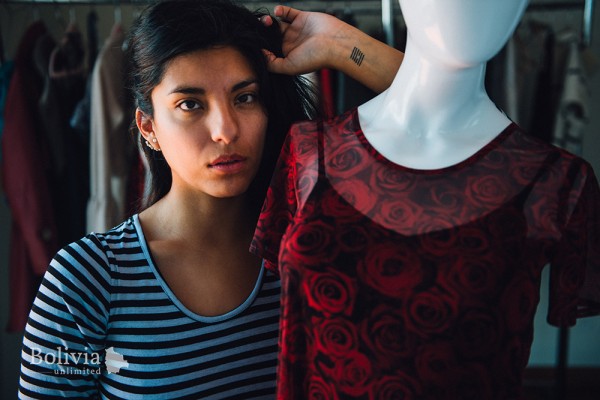 22 Nov, 2017 | Fruzsina Gál
Photo: Iván Rodriguez Petkovic
Inside the mind of a Bolivian fashion designer


Hidden in the deceptive mishmash of eccentric apartment blocks and the bustling traffic of the Calacoto neighborhood in La Paz's Zona Sur district is the studio of an idiosyncratic fashion brand. Even with the accolades that the brand has received in recent years, the studio is nearly impossible to find – unless you know where to look. Sitting in the minimalistic but stylish space is Vania Rodríguez, the creator and designer of the Bolivian fashion world's extravagant secret, La Espina. Like the thorn of a rose, this alta costura brand stands out amidst the otherwise mostly artisanal crowd of the Bolivian fashion industry. At 27 years old, with the past three of those being dedicated to La Espina, Rodríguez finds herself in a position that she has always dreamed about. For the most part, La Espina might be hidden from the unsuspecting eyes of the general public, but for those in the know, the line has great significance in la moda paceña.
Prior to founding La Espina, Rodríguez studied fashion and textile design in Argentina. When she returned to La Paz, her hometown, she decided to design a line of clothing to accentuate a sense of Bolivian identity, but without the all-too-traditional motifs and styling of mainstream Bolivian fashion. 'I felt that was an old, tired image of Bolivia,' Rodríguez says, 'but I really wanted to portray aspects of our Bolivian culture, and so for my first collection I drew inspiration from dancers and artists, and from historical [narrative] passages.'
Three years down the line, La Espina still conveys a distinct sense of Bolivian identity while remaining singular in its own right. According to Rodríguez, La Espina is a fusion of both Bolivian and Western influences, and she keeps a keen eye on the current trends, fashion shows and her favourite designers, translating them into her line. Throughout the past few years, La Espina has been carried by several multi-brand stores in Santa Cruz, Santiago, Buenos Aires and, of course, La Paz. Lately, friends and colleagues have been pushing Rodríguez to open a boutique in Santa Cruz – where, she acknowledges, the Bolivian fashion industry is most developed, and people are more consumer-driven – but so far she refuses to give in. Rodríguez is happiest designing in her studio; she doesn't want to market her clothes to people who don't understand or appreciate her aesthetic. She'll leave that to others.
La Paz might be behind in the fashion industry, but Rodríguez is hopeful that this will change. As she points out, it's more of an accomplishment to achieve her goals here than in some other, more fashion-oriented city. People in La Paz are more prudent when shopping, and luxuries, such as high-end clothing, oftentimes get the short shrift here. However, this attitude is slowly changing, and an appreciation for fashion is developing. 'More and more people are asking me how or why I do certain things in my design, and in the end, that is what [my customer base] buys,' Rodríguez says. 'They are becoming more connected with the meaning of the garments. People in La Paz tend to buy less, but good-quality and interesting stuff.'
La Espina is precisely about this unique element of unexpectedness. As a designer, Rodríguez remains curious about what makes Bolivia Bolivia, and what makes fashion fashion. She draws her inspiration from those parts of everyday life that go unnoticed – hence the name, 'The Thorn.'
'When I was looking for a name for my brand, someone suggested a beautiful flower, like a rose,' Rodríguez says. 'I don't care for beauty standards, and I instantly knew I would never name it something so frivolous. I care more for investigations above and beyond, for seeing something that nobody else has seen, and I declared that, if anything, I would call it something more interesting, like the part of the rose that nobody sees or particularly cares about. And La Espina was born.'
Rodríguez says that her design process comes from this same fondness for observing the fractures and details in otherwise ordinary scenes. As an artist, she likes to look and go beyond the expected, and that is why La Espina has been a returning highlight of Bolivia's Fashion Week for three years in a row now. Rodríguez says she enjoys the atmosphere of exclusivity surrounding her brand. To her, La Espina isn't meant to be like any other brand. 'I want to be in interesting places, I want to be a secret,' she says. 'Ever since I was a little girl, I've always had this image of a huge fashion house, one that people know about but one that is so secret that you have to knock on a few doors before discovering it. I'm definitely proud of what I've achieved so far, but I still have a long way to go.'
Currently, Rodríguez is working on the costume design for a movie directed by Juan Carlos Valdivia (of American Visa fame) currently being filmed in Bolivia. Simultaneously, she's designing her new collection for Bolivia's Fashion Week in December. Asked about her inspirations for the collection, she says that it's going to be far from ordinary. 'La Espina is about completing an individual's personal statement,' Rodríguez says. 'I strongly believe that clothes are the skin you choose, and although my clothes can be very minimalistic, if they speak to me and they speak to you, then I have achieved my goal.'
Contact information:
Instagram: @la_espina
Facebook: facebook.com/laespinabo