The Art of Making a Difference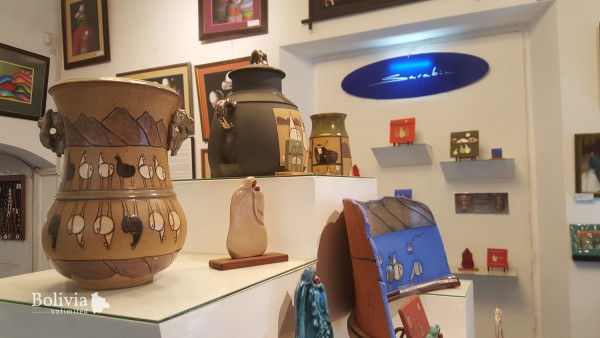 20 Jan, 2019 | Autumn Spredemann
Photos: Autumn Spredemann
Gallery owners Fredy and Jonathan Hofmann set the stage for Bolivian artists
The doors of Arte y Cultura Galería are open seven days a week, catching the eye of all who walk by with an impressive and colourful display of work by Bolivian artisans. Only a block away from 25 de Mayo Square in the city of Sucre, you'll find this one of a kind place that is uniquely dedicated to local artistry.
Since 2015, Fredy and Jonathan Hofmann, father and son owners of the shop, have been providing a space for local artisans to showcase their work. A far cry from the mass produced tourist tchotchke you find in so many places across the highlands, Arte y Cultura Galería has shined a light on some of Bolivia's most talented crafters, including internationally celebrated painter Roberto Mamani Mamani.
It all started with a backpacking trip in 1976, when Fredy Hofmann, who was born and raised in Switzerland, came to Bolivia for the first time and fell in love with the people and culture of the altiplano. In the spirit of a true traveler, he knew the only means of staying among the snow capped jewels of the Cordillera Real was to find a job in the area. Which is why he started working in a textile factory in La Paz.
It all started with a backpacking trip in 1976 when Fredy Hofmann came to Bolivia and fell in love with the people and culture of the altiplano.

By 1980, he had developed such an intimate knowledge of Bolivian textiles that he moved to Oruro to open a factory of his own. A few decades later, Hofmann was married and was the head of a growing family that split its time between the Swiss Alps and the Bolivian highlands.
In 2009, however, Hofmann came to Sucre for something more than just a visit. His aim was to settle in the perpetual spring like climate of the high valleys.
Given Hofmann's appreciation and familiarity with Bolivian artistry and Jonathan's shared passion for these unique artforms, it seemed natural for father and son to create a space that properly featured local talent. When asked why he felt compelled to open a gallery in Sucre, Hofmann replies: 'Because we didn't have one here, but we have many talented artists.'
The curatorial vision of Arte y Cultura Galería makes a difference. It offers a way for Bolivian artisans to avoid the trap of reproducing standardised cultural goods for foreign and local clients. As is evident to a traveller of the Andes, there are certain colours and patterns that repeat themselves in local artwork throughout the highlands. Instead of adhering to this standard, Arte y Cultura celebrates individuality.
The curatorial vision of Arte y Cultura Galeria makes a difference.

Every fiber, every brush stroke, every stone or strand used as a medium by a local artist tells a story of its own. It's an expression of heritage and tradition that is as singular as the pattern of a snowflake.