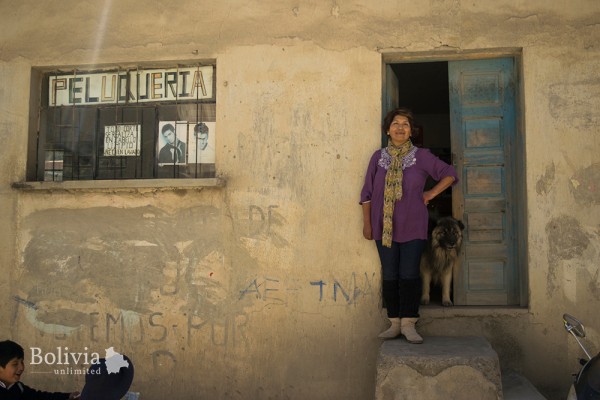 24 Sep, 2018 | Rose Cocks
Photos: Rose Cocks
The small fruit-farming community is a picturesque respite from the citified chaos of La Paz
In the small town of Sapahaqui, lying a bumpy two-hour minibus outside of La Paz, is a warmth and hospitality that is hard to find in large cities. With a population of around 1,000 people, Sapahaqui sits below picturesque mountains and is surrounded by countryside, not far from the hot springs of Urmiri. It's known for its fruit production – which is notable given that most fruit available in Bolivia comes from Chile, Argentina or Peru. When one arrives in the town's central plaza, there is little to see – just a church, the mayor's office and a smattering of shops surrounding the square; however, the character of the town can easily be discovered through its inhabitants.
There is a contented quietness around the town, in stark contrast to the busy, chaotic and loud life of a city such as La Paz. The kindness of Sapahaqui's inhabitants is clear to outsiders, as after visiting for just one day we were invited into a local's house for soup, made by her elderly mother, and thanked repeatedly simply for taking an interest in the town. Victoria Infante Rodríguez, a hairdresser, has in the past lived in Cochabamba and La Paz, but has now come back to Sapahaqui to be with her parents. Infante told us about the town's tradition of hospitality. Any person walking past will immediately be greeted with a 'buen día', and elders are usually referred to as Tía or Tío, regardless of family relation. Whilst this may be common within a number of small Bolivian towns, to an outsider this goes above and beyond simple social courtesy.
The character of the town can easily be discovered through its inhabitants.
The sun beating down on the central plaza gives the town a lazy and relaxed feel; however, the work ethic of sapaqueños could be described as anything but. Having been given the opportunity to talk to the president of the junta de vecinos, Alfonso Guarachi Ayaviri, who works alongside the mayor's office, we were provided with an insight into how the town functions.
Ayaviri discussed the 'communal' way in which the town works and develops, in contrast to larger cities. 'I have to make sure that everyone works,' he said. 'Those that don't work, we sanction them.' This communal way of living reflects how residents are tackling the biggest issue Sapahaqui currently faces: the recent and continued lack of water. Because it's a fruit-farming community, Guarachi informs us that 'more importance is placed not on the personal consumption of water – here more importance is given to water for irrigation.' Because of this, water is allocated depending on the size of someone's crop.
Sapahaqui also suffers from a lack of modern infrastructure, which Guarachi wants to address by the community becoming 'a consolidated town, a town where all the neighbours have the documentation of their houses in order, have owner's rights, have good lighting and principally have basic services.' He also addressed sapaqueños' distrust of outsider institutions, claiming that, whilst they have money, 'they don't deposit the money in a bank, they don't trust it; it's in the mattress.' However, this distrust is aimed externally, as residents have formed unions to facilitate the production and trade of fruit. Guarachi said that 'people from rural areas, their essence is to mistrust,' an attitude epitomised by the community's suspicion of authorities from larger metropolitan areas such as La Paz. 'In the past,' Guarachi said, 'money only used to come to the cities, it didn't come to rural areas.'
Although both boys and girls are educated within Sapahaqui's school through the primary and secondary levels, Guarachi admitted that 'older men didn't want women to study here,' citing antiquated attitudes of machismo that still remain somewhat common. Even now, he said, in district meetings 'not much importance is given to the position and to what a woman says.'
Post-secondary education is still uncommon for Sapahaqui's young people, but Guarachi would like to see a technical institute founded within few years, providing students with skills that are vital within this type of community, such as farming, mechanical and electrical engineering, and nursing. Victoria Infante Rodríguez, the hairdresser, also highlighted the need for not only trained medical professionals, but a modernised and properly supplied medical centre.
Although Sapahaqui's customs and traditions are still incredibly important to its inhabitants, Infante expressed dismay that 'traditional customs are being lost little by little,' among them the knowledge of the town's language, Aymara. Infante is proud of her ability to speak this language, and said that it is vital to the preservation of the town's individuality as a community.
Here, visitors are welcomed with open arms.

When travelling through Bolivia, it's easy to view large cities such as La Paz as the main attractions; however, spending even a day in a small town like Sapahaqui demonstrates the worth of expanding one's touristic view. Here, visitors are welcomed with open arms, with sapaqueños displaying a work ethic, sense of pride and respect for one another that is admirable. So if you're on your way out of La Paz, or travelling to Urmiri, stop in Sapahaqui and have a bowl of homemade soup with locals who will welcome you with open arms.
Comments
lissa
06 Aug, 2020 | 08:38
was looking for this kind of stuff and i got it
My Assignment Services
01 Feb, 2020 | 07:29
Very insightful post!
Komal Patel
15 Feb, 2020 | 02:46
It's really amazing place to visit and thanks for sharing this valuable post. escorts-services .in
Tom Stark
14 Sep, 2020 | 06:33
The post was nice. I have been searching for these kinds of things.
its rising tech
21 Sep, 2020 | 04:16
vszvcszdzvszxv
BlueStacks Cracked
13 Feb, 2019 | 13:19
Great Post
Best Assignment Helper
10 Jul, 2019 | 06:44
Nice post thanks to sharing with us.
Make a comment