21 Jun, 2018 | Marion Joubert
Photos: Marion Joubert
The road to strength is paved with art
Who are these young girls, sitting quietly around a table and drawing animals that represent them? Who are these teenagers or mothers who escaped their home and eventually reached this women's shelter?
It took a lot of courage for these girls to come to this women's shelter in Cochabamba and start a new life, away from violence. Once they arrive, however, they have no clue of how to pursue a brighter future. Generally speaking, they enroll in the shelter lacking self-confidence, not knowing what to do with their lives, and unaware of their rights and personal qualities. But above all, they arrive with a good deal of trauma after having suffered some form of violence.
The NGO Pintar en Bolivia helps them overcome the difficulties they are facing through art therapy. The organisation helps them express their emotions and also assists them in building up their self-esteem and visualise their life objectives. It helps them answer the following questions: What do I want? What do I need? Who am I and how can I reach my personal goals?
The woman prompting these questions is Lisan Van Der Wal, a passionate art therapist from the Netherlands who is full of determination to make her Kallpa plan successful.
'Kallpa' means strength in the Quechua language. This is what the association aims at: to empower women who have been victims of sexual, psychological and physical abuse. To give them the strength to be independent and to overcome their problems. 'That's why it is so important to give them a voice that they can raise,' claims Lisan. The goal is to help open their minds and lead them to a better future.
The NGO Pintar en Bolivia helps vulnerable women overcome their difficulties through art therapy.
The Kallpa project consists in three sub-initiatives: the art therapy sessions, which take place on a weekly basis; the women empowerment days; and an annual exhibition that showcases the works of art that the girls have created.
The art therapy exercises take different forms depending on the skills of the volunteers who lead them. The week I visited Kallpa, the women were engaged in contemporary dance classes and drawing sessions, followed by a brainstorming exercise that helped them move forward with their therapy. The women empowerment days, which happen four times a year, focus on the girls themselves, on their life projects, and their hopes for the future. These days expand their horizons and give them the strength to do something worthwhile with their lives.
Lisan insists that the most important criteria for following the women's progress is not the quality of drawings they produce, but the evolution of their personal process as well as the meaning behind their crafts.
The activities the women take part in have different purposes. Some are meant to encourage the women to discover their qualities and gain self-confidence, such as the 'qualities cards' workshop, which also reinforces the group's social cohesion. In this game, the girls have to find three positive words that describe them. Then, one by one the women leave the room while those who stay choose three positive words or qualities that fit their peers.
'Drawings are full of symbols that have their own separate language.'
—Lisan Van Der Wal, founder of Pintar en Bolivia
Other activities, such as the 'heart full of feelings' workshop invite the women to express their deep emotions. In this workshop, the women are asked to write a list of feelings they are experiencing in their lives, and assign a colour to each emotion. Then, on a sheet of paper, they must colour a heart-shaped space with the colours that symbolise what they are feeling. Once this is done, every woman who is participating in this workshop receives an empty glass bottle, which they paint with the colours of their emotions. Then, Lisan tells them: 'We've worked on emotions, now I want you girls to go deeper: Which emotion is so intensely present in your heart that you can't even explain it? Write it on a paper and put it in the bottle so nobody can read it,' she says.
In order to end the difficult and painful exercise in a positive way, Lisan invited the women to take a flower and slip its stem into the bottle as if to close it with the petals. 'Your story is safe and belongs to the past now,' Lisan told the women at the workshop. The goal of the activity was to increase self-expression, and to create a feeling of unity and respect in the group that helps them verbalise their feelings.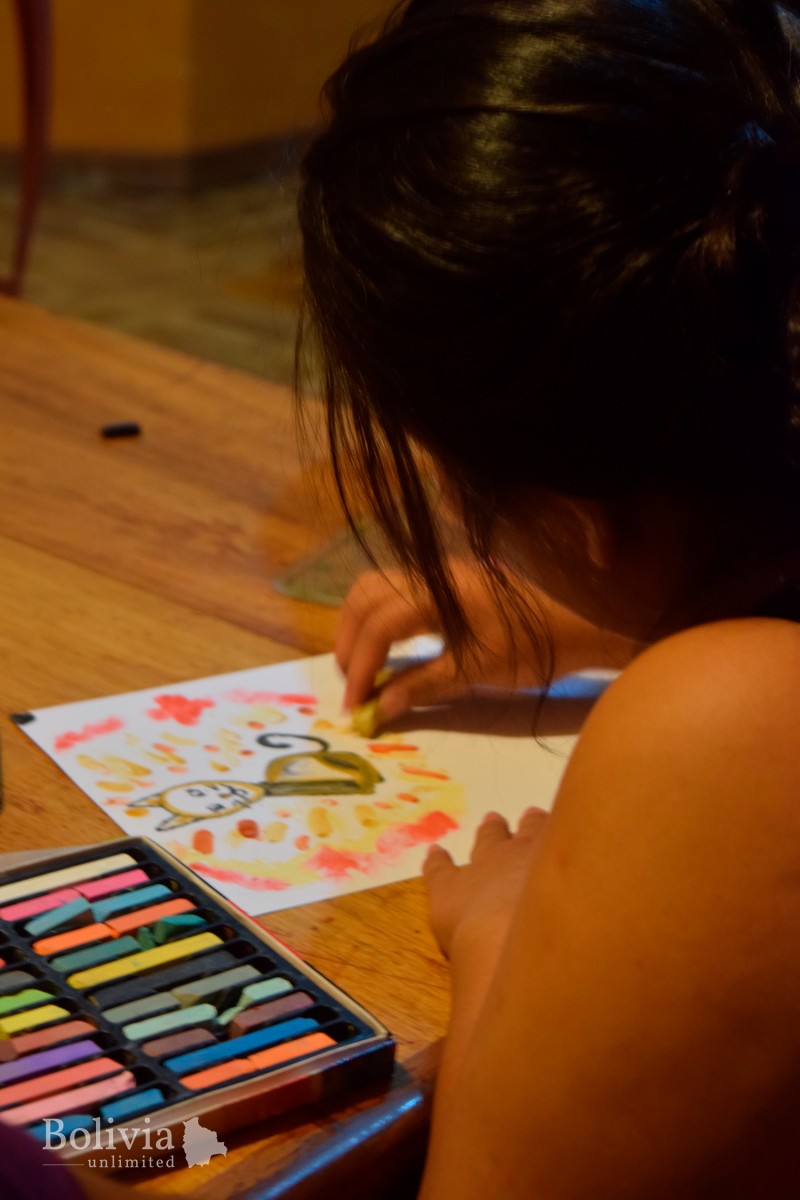 Lisan believes that art therapy is much more successful than usual therapy with these girls because art is in their traditions. It seems much easier for them to talk though art than with direct words. 'Drawings are full of symbols,' she explains, 'that have their own separate language.'
'I have noticed that in Europe,' Lisan tells me, 'art is only for people that are really good in it. In Bolivia, however, there is a lot of handicraft, everyone can do it.' According to Lisan, art makes people think, learn, and express themselves. It can empower an individual. It is a solid tool for personal self-development and it can help us reflect on how people behave in real life. Thanks to the art therapy exercises, Lisan noticed the positive impact of art on the girls' well-being: 'They come from nowhere and I have seen so much progress!', she says. There is indeed research that suggests that art is effective in reducing psychological troubles.
These favourable effects of art therapy are evident in the Kallpa project, which is only one of several programmes lead by NGO Pintar en Bolivia. The association also promotes the 'Mariposa project,' which lends moral support to sick children as well as their mothers in the pediatric oncological department of the Viedma Hospital. This Mariposa project aims to reduce their anxiety and make these young patients feel like children again. And last but not least, Pintar en Bolivia organises a project called 'Nice Sunrise' in collaboration with another NGO called Mosj Punchai. This initiative tends to children who have suffered severe burns in order to make them feel better and assist them in regaining their confidence.
'If I wanna do everything I have in mind, I should stay here for ten years at least. It's definitely possible to change things here,' Lisan says, when thinking about the future of her organisation. She has thousands of ideas on how to integrate art therapy in Bolivia and make it sustainable, but she remains is realistic and goes step by step to develop them successfully. Next year, she plans to launch a new project with schools in Cochabamba because she has noticed that the problems her organisation addresses could be prevented with a better education. Lisan Van der Wall wants to create partnerships with schools in the city to develop art therapy for young students and their parents on social and hygiene issues. Her goal is to counteract bullying against sick children and to fight against racism and discrimination in general.
This strong and determined woman reminds me of one of the drawings I saw during the workshop at the shelter: 'Why did I draw a cat?' asked the artist. 'Because it is usually a nice animal, but when it has to defend itself, it doesn't hesitate to do so.' Both the girl and Lisan are like the cat in the drawing: they can be really nice and helpful, but are willing to use their claws to fight for what they believe in, for a brighter future for the girls through the means of art therapy.
You can reach Pintar en Bolivia at: www.pintarenbolivia.org and support them here: www.kisskissbankbank.com%2Fen%2Fprojects%2Fpintar-en-bolivia-kallpa-project.