Humans of Mercado Rodriguez
05 Oct, 2015 | Anna Bellettato
The Vendors of La Paz's Grand Market
A Photoessay by Anna Bellettato
Every day at Mercado Rodriguez – the biggest food market in La Paz – human activity runs smoothly and frenetically from dawn to sunset.
In the midst of the chaotic streets that comprise the market, only a stranger to the place is frozen still while everything around flows. Is their immobility caused by the surprise of the overwhelming and magnificent atmosphere of colours, noise and thousands of different smells that explodes around them? Or is it the feeling of not knowing where to begin, given that products here have no labels? No tag or marker distinguishes one kind of potato from the hundreds of others on offer, nor are there prices written on the ripe and inviting fruits.
Only without labels on goods is it possible to really interact with the caseritas, going beyond the mere economic mechanism of markets. From a simple glance at the caseritas, one can see the important role they play at Mercado Rodriguez. They sit solemnly on each corner of the street in their regular spots, surrounded and almost protected by their piles of produce whilst keeping a vigil eye over the constant stream of people. Sometimes they doze off or occupy themselves with a snack, but this does not mean that they will fail to detect a customer arriving.
At Mercado Rodriguez there are no labels, but one can certainly learn some names.
Beatriz, a matronly woman who kindly allowed me to admire her composure and hard work, smiled at my camera and laughed out loud.
Graciela, a vendor and a mother, posed excitedly with her son, Juan Gabriel. This child, with his dry cheeks and black smiley eyes, thought my camera would become his once he could see himself on its screen.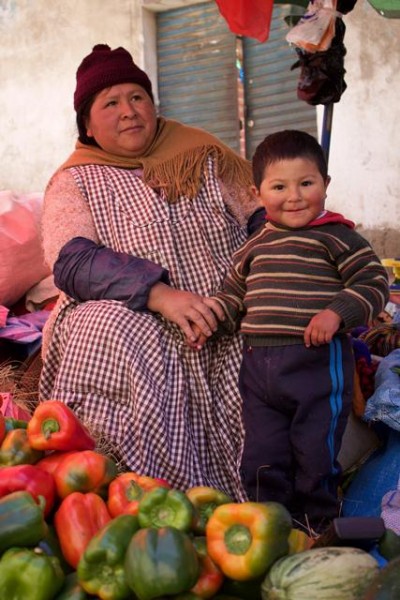 Lidia, a delightful person to talk to, was very proud of her zapallos and fresh ajíes. She wanted to know where I was from and why I was at the market that day.
Juana sold delicious tomatoes from the Yungas, along with red and yellow ajíes, in addition to lentils, rice and tuntas. When asked how she determined the price of a particular product, she made clear that she does not have any decisional role, but simply sells what she buys from the producers. She blessed me and reminded me to pray to her God.
Mercado Rodriguez is located on Calle Rodriguez near the corner of Avenida Llampu in the San Pedro neighbourhood, open from 5 am to 9 pm.