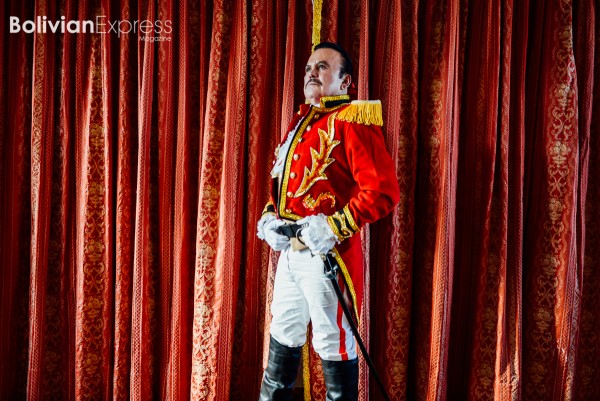 20 Jul, 2016 | Abigail Alves
History & Politics and Culture
Photo: Abigail Alves
José Antonio Saavedra Keeps Murillo's Torch Burning
'You need a lot of strength to carry this torch.'
Pitch black hair greased over, a moustache sharper than a cutting knife and an enigmatic charisma comparable to Marlon Brando's, José Antonio Saavedra turns heads as he walks dressed from head to toe as Pedro Domingo Murillo along La Paz's El Prado.
'Do not say it's a costume, for it's not a costume,' Saavedra says. 'Costumes are for carnivals. I, on the other hand, I interpret Pedro Domingo Murillo!' he exclaims.
The making of the film Fuego de Libertad, back in 2009, which commemorated the 200th anniversary of Bolivia's independence, ignited Saavedra's interest in Bolivia's historical political figure when he was cast to play the revolutionary hero and the film's key protagonist who portended to the country's democratic shift. He became invested in his role, and has been playing the part ever since.
'[Murillo] gave his life to gain emancipation from the Spanish,' Saveedra says as he sits on his paisley-print couch twirling the 10-pound torch he carries along El Prado all the way to Plaza San Francisco on El Dia de La Paz. 'A person who fights for their ideals, I put them in high value.'
Saavedra is an entrepreneur who owns a car lot, Saavedra Motors, and is also an economist and a lawyer, yet manages to find space for his acting hobbies on the side. While a lot of actors have played the part of Murillo, most of them have let go and moved on. Yet Saavedra carries on, year after year.
'I kept on going, fascinated by his character,' Saavedra says. 'I studied him, and even had the honour of being invited to his house by the government.'
Tweaking and fixing his custom-made Murillo attire yearly, the part-time actor and multi-career Bolivian wakes up at 5 in the morning every July 16 to ready himself for his procession with the help of his wife, Maria Helena. But this day commemorating Murillo's insurrection in 1889 is but one of many showings of Saavedra as the revolutionary hero. Starting July 1, Saavedra attends events and interviews leading up to El Dia de La Paz.
'I identify myself with him because I respect his ideologies, and I'm a man of my word, like he is,' Saavedra declares. 'You need a lot of strength to carry this torch.'
The son of a military officer from Santa Cruz, Saveedra admired his father's wardrobe as a young boy, but his father's loyalty towards his beliefs always reminded him of Bolivia's revolutionary. The way Murillo sacrificed his life for those of Bolivian peoples reminds Jose of his father's selflessness.
Saveedra stands on a small stage located on the third floor of the Loteria Nacional building. There are 12 days left until El Dia de La Paz, but he is attending the 'Pedro Domingo Murillo Loteria Nacional' event on Avenida Santa Cruz. La Loteria Nacional celebrates the foundation of Murillo's homage and is nominating the political figure for the next raffle that is happening this morning. The torch that was ignited in 1889 is a símbolo de la paceñidad.
'It is fundamental here in La Paz, we are trying to reinforce the sentiment of liberty and revolution that our city and Murillo both have in common,' says Rossillo Pimentel, executive director of La Loteria Nacional.
Saavedra struts on stage as his alter ego. He raises his right fist to the air and fervently looks through National Radio Bolivia's camera, declaring, '¡No apagarán la tea que he encendido (They will not extinguish the torch that I have ignited)!'
He walks off stage with his lit torch. The exit door slams in such a way it resonates throughout the room. A gust of dry of Bolivian wind enters the room but Saavedra's torch ceases to burn out.