31 Dec, 1969 | BX Team
Photos: Courtesy of Casa Real Singani
Singani, the national spirit
Singani is a drink made from fermented and distilled white Muscat de Alexandria grapes. Despite initially being a spirit drank neat, if one was to go into a bar in Bolivia today, it is highly likely that a number of Singani cocktails will be offered, the most popular one being chuflay which is Singani and ginger ale, but others include yungeño, té con té and sucumbé. Here are some recipes of our favourites Singani cocktails that can be easily reproduced at home.
CHUFLAY

The origin of this drink takes us back to the 19th century while the english workers of the Bolivian Railway Co where trying to consume their traditional Gin&Gin, a drink that combines Ginebra and Ginger Ale. But at that moment Ginebra was too difficult to get in Bolivia, so they decided to replace it and used Singani. They were fascinated with the result, and named the drink 'Short Fly' which is a railway term for a temporary rail (Singani was supposed to replace Ginebra temporarily) but then the drink gained popularity and the locals bolivianised the word and started calling it 'Chuflay.'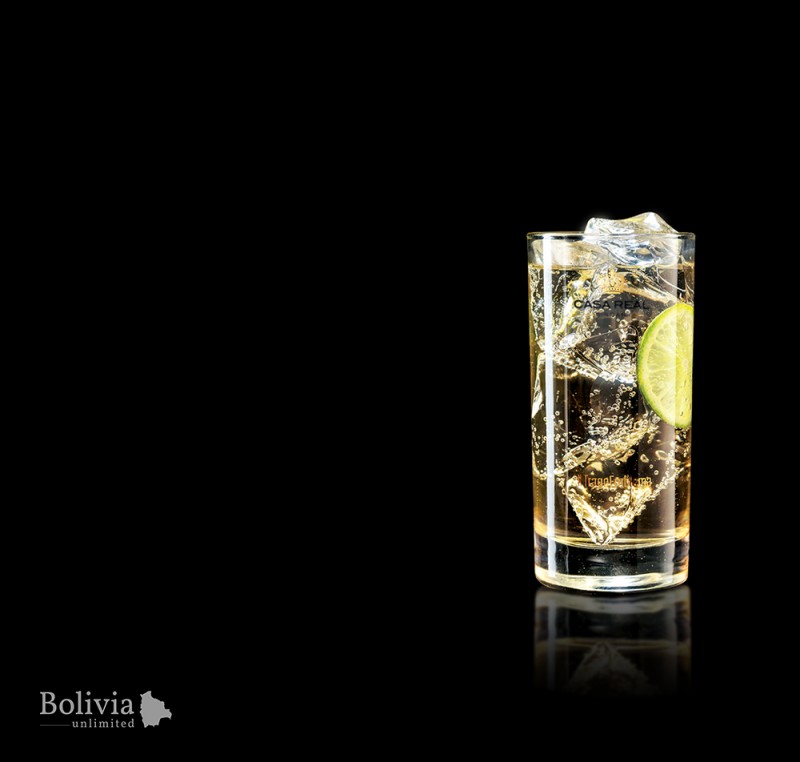 Recipe:
2 oz Casa Real Singani
¼ oz Fresh lemon juice
5 oz Ginger Ale
Method: Direct
Glass: Long drink
Preparation: Fill the glass with ice and directly pour all the ingredients in the order mentioned above. Add a slice of lemon for the final touch.
YUNGUEÑO
Yungas is the subtropical region east side of the Bolivian Andes, in this region a great variety of fruits is produced, among them citrus fruits such as orange. Thus, given the abundance of this fruit, people did not hesitate to combine it with our national spirit and baptize it Yungueño, which means 'from the Yungas.'

Recipe:

1 ½ oz Casa Real Singani
5 oz fresh orange juice
½ oz syrup
Method: Direct or shaked

Glass: Long drink
Preparation: Fill the glass with ice. Combine the singani, fresh orange juice and syrup directly or in a shaker. Shake very well and serve with a slice of orange, drink it very cold. Cheers!
TÉ CON TÉ
'Let food be thy medicine and medicine be thy food.' That's what Hippocrates thought the year around 400 BC, at that time doctors use to mix medicinal herbs with alcohol to preserve the healing properties in a better way and in fact, those are the beginnings of cocktails. Talking about those therapeutic properties, we are sharing with you this recipe recommended to deal with colds or to enjoy at any cold night.

Recipe:

1 ½ oz Casa Real Singani
½ oz Fresh lemon juice
½ oz honey
4 oz of hot tea with cinnamon
Sugar (optional)
Method: Direct

Glass: Cup or mug
Preparation: Prepare the hot tea with cinnamon and honey, pour the singani and add a slice of lemon.
SINGRONI
Ok, this is not actually a traditional Bolivian drink but shows how versatile Singani is and how we can use it to revisit a classic cocktail. Honouring the classic 'Negroni', a cocktail that recently celebrated its 100 year anniversary, we share the recipe of 'Singroni' created by the mixologist JP Caceres, brand ambassador of Casa Real Singani.

Recipe:

1 oz Don Lucho Aniversario Singani
1 oz Campari
1 oz Vermouth (sweet)
1 slice of fresh orange
Method: Direct
Glass: Short drink
Preparation: Add the slice of orange and cubic ice in the glass, pour the spirits inside mix for 10-12 seconds.