30 Jun, 2020 | Bx team
A photo collaboration by Azafrán Magazine, special thanks to Alvaro Ruiz
Exceptionally, this issue will not have a cultural agenda nor recommendations. This month is all about food and treating ourselves so here is our selection of favourite Bolivian dishes with substitutions for those who can't find the original Bolivian ingredients.
Cuñape
Cuñape is a type of cheese bread made with yuca (tapioca) flour. It's from the eastern part of the country and comes from the guarani word for 'breast.' They are traditionally made with queso fresco and are served hot. Any cheese that you like will do here. You can reheat them in the oven or in the microwave for 30 seconds. They are best enjoyed with some coffee. 
Servings: 12 
Ingredients
2 cups cassava / yuca starch
2 cups shredded or grated cheese 
1 egg
1,5 tablespoons/20 grams butter softened
1,5 teaspoon salt (depending on the cheese you use)
5 tablespoons milk
Preparation
Preheat oven to 400F/200C and grease 2 baking sheets.

In a big bowl, add starch, cheese, egg, and butter and salt. Mix with the tip of your fingers. Add 3 tablespoons of milk and mix with your hands. (it's going to look like big crumbs)

Dump it all on a clean surface and knead the dough for 2 to 3 minutes. If it doesn't come together, add 1 tablespoon of milk at a time. 

Divide the dough into 12 equal portions. Make a round ball with each portion and place them on a greased baking sheet.

Bake for 20 minutes.
Plato Paceño
Plato paceño is a traditional Bolivian dish consisting of a combination of lima beans, potatoes, corn and fried cheese. Although the dish traditionally  doesn't contain meat it has become popular to add roast beef alongside it. Eat with llajua.
Serving: One plate
Ingredients
Corn (tender corn cob)
Beans in shell
A pinch of sugar
A pinch of anise
Potatoes
Queso fresco or any cheese that can be fried
Preparation
Bring water to a boil in a large saucepan. Cook the corn and beans in the shell, over high heat, for 25 minutes.

Cook the potatoes in their skins in salted water to taste.

Cut the cheese into slices and fry it.

Serve on each plate a corn, a slice of fried cheese, a potato, beans and a tablespoon of llajua.
Pique Macho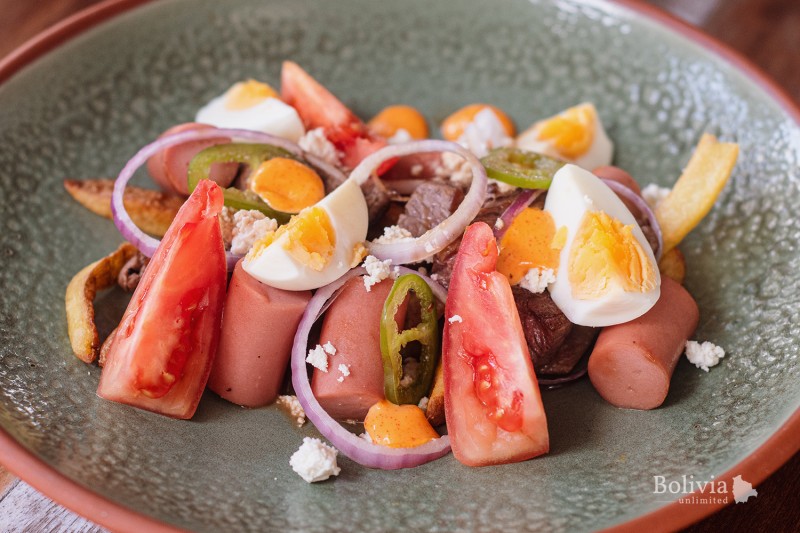 Pique macho is a very popular dish from Cochabamba in Bolivia, made of beef cuts and fried sausages with fries, eggs, chili peppers and tomatoes. It's best when shared with friends and family.
Servings: 4 people
Ingredients
2 lb beef loin
1 lb sausages , sliced
8 medium potatoes , cut into French fries
3 tablespoons vegetable oil
4 large onions, chopped
2 medium tomatoes, peeled, seeded and diced
8 locotos or any small red chili peppers, diced
2 cloves garlic, chopped
1 teaspoon cumin
Frying oil
Salt
Ground black pepper
4 hard-boiled eggs
Instructions
In a pot, heat oil and add the potatoes. Fry for 8 minutes.

Drain and set aside. Keep the cooking oil.

Heat 5 tablespoons of the cooking oil in a pan and fry the sausage slices for a few minutes. Drain and set aside.

Cut the meat into small pieces and season with salt, garlic, black pepper and cumin. Mix well by hand to soak the seasoning.

Heat 3 tablespoons of vegetable oil in a pan and fry the locotos for 2 minutes, stirring constantly. Add the onion, tomato and a pinch of salt. Mix well.

Add the meat and mix.

Heat oil again and fry the potatoes again for 3 minutes. Drain and season with salt immediately.

Add the reserved sausages to the meat and mix everything.

Serve with hard-boiled eggs.

Garnish with strips of raw chili, sliced raw tomatoes, mustard and mayonnaise.
Sopa de Mani
Sopa de mani is one of the most delicious and traditional soups of Bolivia. It is made with peanuts, pasta, peas and potatoes, and can be accompanied by pieces of beef or chicken but makes a filling vegetarian dish in itself.
Servings: 4 people
Ingredients
4 oz. raw peanuts
1 white onion , peeled and chopped
1 carrot , diced
3 oz. peas (fresh or frozen)
1 stalk celery , finely chopped
½ red bell pepper , diced
¼ cup vegetable oil
3 cloves garlic , chopped
6 cups beef broth (or vegetable broth)
4 potatoes , cut into large cubes
1 teaspoon cumin
½ teaspoon oregano
1 small bunch flat parsley , chopped
Salt
Black pepper
Instructions
Soak the peanuts in hot water for 2 minutes so that they can be peeled easily. Drain them.

In a blender or food processor, mix the peanuts and a cup of cold water until you obtain a paste. Set aside.

In a large pot, heat the oil over medium heat and sauté the garlic.

Add the onion, carrot, peas, and celery.

Sauté over high heat for 5 minutes, stirring constantly.

Add the red bell pepper and broth and sauté over medium heat for 5 minutes.

Add the blended peanuts and stir well.

Add the potatoes. Add salt, black pepper, cumin and oregano. Mix well.

Cover and cook over medium heat for 15 minutes.

Cover and cook over low heat for 15 minutes, stirring regularly.

Sprinkle with chopped parsley at time of serving.