30 Apr, 2021 | Ryan McMeekin
Photo: Adriana Murillo
Illustration: Hugo L. Cuéllar
ENGLISH VERSION
An unlimited vision for Bolivian poetry

Born in Santa Cruz and raised in Oruro, a student in Cochabamba, and a resident of La Paz, Benjamin Chávez is a poet with an intimate knowledge of Bolivia, and of the country's creative spaces. He is not only a successful poet, who received the Premio Nacional de Poesía for his collection Pequeña librería de viejo (2007), but he is also an artist committed to finding poetic talent in Bolivia and presenting it to those outside of his country. In 2010, Chávez founded the International Poetry Festival of Bolivia, primarily to showcase local poets, but also to present talent from across the Hispanic world. Chávez's vision for his poetry looks inside and beyond the country's borders; a celebration of poetry from within that is simultaneously becoming more accessible to those outside.
Chávez's poetry, though technically Bolivian, is not tied to his nationality. For Chávez 'there is no difference between those who write poetry here [in Bolivia], or in another Spanish-speaking Latin American country. Someone who reads a lot of poetry might recognise if a poet is Chilean, Argentinian or Bolivian…but they could also get it wrong,' he says. This blending of Latin American poetry has only been accelerated by the growing ease of publication. As Chávez notes, 'thanks to new digital technology and digital impressions, costs of printing are lower and there is an increasing number of small, independent publishing companies and cultural initiatives that decide to publish poetry.' Years ago, Chávez recalls, it was harder to publish in La Paz, as only a few large publishing companies existed. 'Costs were higher,' he explains, 'printing wasn't digital.' Though poetry has 'always had a space here in La Paz', only recently has it gained easier access to the world outside.
Chávez's poetry is fascinated by ideas of space and movement not only in what the poem contains, but, more enticingly, in what the poem may have left out. He asks his reader not only to consider the page, but to imagine what may lie outside of it. Chávez describes his fifth book, Extramuros (2004), as 'an exploration of the frontier of languages, the frontier close to silence.' His poems are 'an experiment in stripping yourself of words, to see what you can say with one word, or with silence.' In contrast with Extramuros, his fourth collection, called Y allá en lo alto un pedazo de cielo (2003), is composed of a single poem of 40 pages. 'These are two extremes of language, one that tries to say nothing and the other that tries to say everything,' he explains. According to Chávez, 'between these two spaces is everything.'
Extramuros consists of three sections – 'entreacto', 'inaudible' and 'fragmentaria' – that are themselves made up of several shorter poems, or fragments. Chávez's exploration of poetry and physical space is best expressed in the sixth poem of 'entreacto', made up of six words and simply titled '6':
On the page, '6' is visually empty. The type that makes up the body of the poem is surrounded by a sea of white space that threatens to break up what is contained in the text. But the poem holds its own and breaks the very boundaries of the page. 'It is trying to say that there is a relation between the outside world and the inside world, that one has within oneself,' Chávez says. 'If at some point you realise that the universe is infinite, you tend to find a limit inside of yourself. The opposite can also happen. You can also feel unlimited on the inside and limited on the outside; limits in what you can say, what you can see… In this case, in this moment, what I saw was an unlimited world, contrasted with the limits inside of myself,' he adds.
For Chávez, Bolivian poetry has the potential to be limitless, to reach outside of the page, outside of the country itself, and perhaps even beyond the Spanish-speaking world. Parts of Chávez's works have been translated into English, German and Estonian, and his work has been featured in various anthologies published in countries across Europe and the Americas. Chávez also notes the success of Bolivian poets such as Jaime Sáenz, whose work has been translated into English and German as well.
Part of the growth of Bolivian poetry is due to an increased number of poetry festivals and prizes in the country. Poetry 'is very alive, especially in the cities,' Chávez says. 'There is always something to read, and sometimes there are surprises. Little by little, local poets are getting more and more popular outside of Bolivia. They participate in literary festivals and are published outside of the country.' Chávez's poetry does not follow a conscious path. For him, 'there hasn't been a plan' in his work. 'I try to respect classical forms of verse, but I also play with white spaces and calligrams… My most extreme experiments have been in Extramuros and Y allá en lo alto un pedazo de cielo.'
It seems the future of Bolivian poetry will increasingly challenge the boundary between the 'inside' and the 'outside.' 'The writers have to keep writing,' Chávez suggests, 'there's no other way around it.' According to him, the problem is one of space, 'Maybe what needs to happen is the creation of more spaces to discuss and debate what is being written. The literary prizes also help attract attention, even if momentary, and to centre it.' poetry is 'not difficult or hermeneutic,' he says, 'you just have to give it an opportunity.'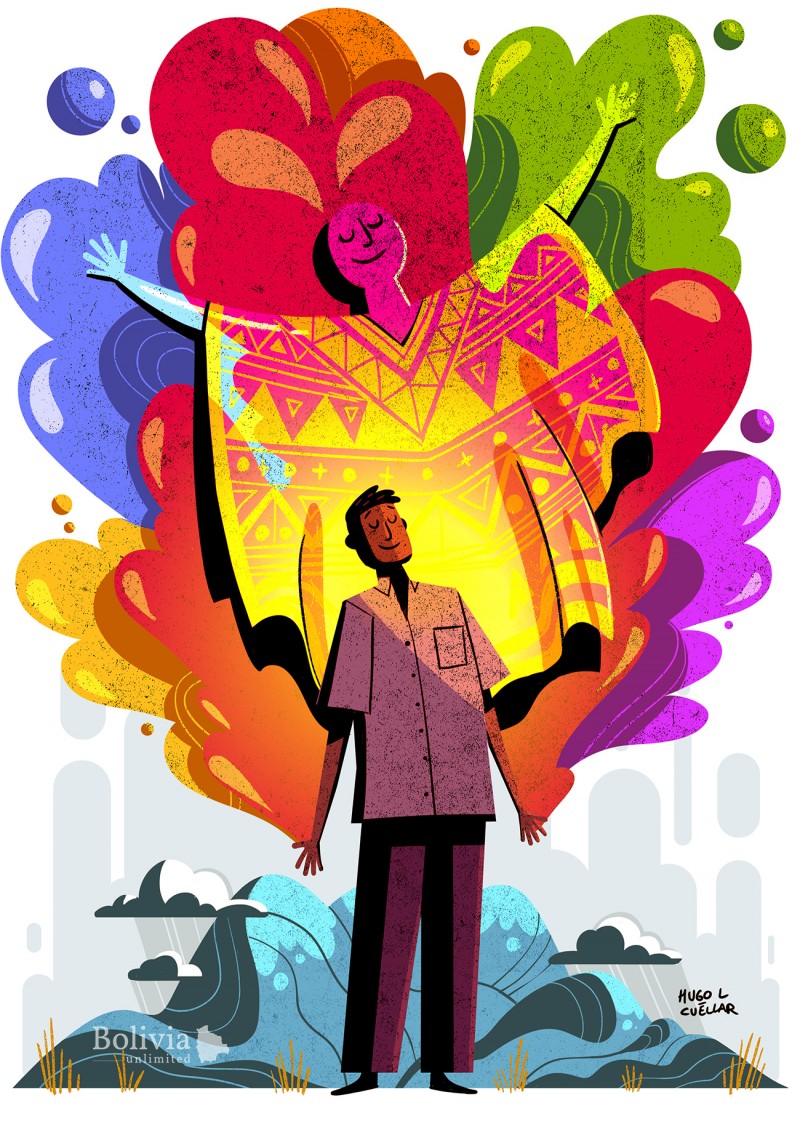 VERSIÓN EN ESPAÑOL
La iIlimitada visión de un poeta boliviano
Nacido en Santa Cruz y criado en Oruro, estudió en Cochabamba y reside en La Paz, Benjamín Chávez es un poeta con un conocimiento íntimo de Bolivia y de los espacios creativos del país. No solo es un poeta exitoso, que recibió el Premio Nacional de Poesía por su colección: Pequeña librería de viejo (2007), sino que también es un artista comprometido con encontrar el talento poético en Bolivia y presentarlo a quienes están fuera del país. En 2010, Chávez fundó el Festival Internacional de Poesía de Bolivia, principalmente para difundir la obra de los poetas locales, pero también para presentar talentos de todo el mundo hispano. La visión de Chávez para su poesía mira hacia adentro, para luego ir más allá de las fronteras del país; una celebración de la poesía desde dentro que al mismo tiempo se vuelve más accesible para los de fuera.
La poesía de Chávez, aunque técnicamente boliviana, no está ligada a su nacionalidad. Para Chávez "no hay diferencia entre quienes escriben poesía aquí [en Bolivia], o en otro país latinoamericano de habla hispana. Alguien que lee mucha poesía puede reconocer si un poeta es chileno, argentino o boliviano… pero también puede equivocarse ", dice. Esta mezcla de poesía latinoamericana solo se ha visto acelerada por la creciente facilidad de publicación. Como señala Chávez, 'gracias a la nueva tecnología digital y las impresiones digitales, los costos de impresión son menores y hay un número creciente de editoriales pequeñas e independientes e iniciativas culturales que deciden publicar poesía'. Hace años, recuerda Chávez, era más difícil publicar en La Paz, ya que solo existían unas pocas grandes editoriales. "Los costos eran más altos", explica, "la impresión no era digital". Aunque la poesía "siempre ha tenido un espacio aquí en La Paz", sólo recientemente ha ganado un acceso más fácil al mundo exterior.
La poesía de Chávez está conectada por las ideas de espacio y movimiento, no solo en lo que contiene el poema, sino también en lo que el poema pudo haber omitido. Pide a su lector que no solo considere la página, sino que imagine lo que puede haber fuera de ella. Chávez describe su quinto libro, Extramuros (2004), como 'una exploración de la frontera de los idiomas, la frontera cerca del silencio'. Sus poemas son 'un experimento para despojarse de las palabras, para ver qué se puede decir con una sola palabra, o con silencio. "A diferencia de Extramuros, su cuarta colección, titulada Y allá en lo alto un pedazo de cielo (2003), está compuesta por un solo poema de 40 páginas. "Estos son dos extremos del lenguaje, uno que trata de no decir nada y el otro que intenta decirlo todo", explica. Según Chávez, "entre estos dos espacios está todo".
Extramuros consta de tres secciones, "entreacto", "inaudible" y "fragmentaria", que a su vez se componen de varios poemas o fragmentos más breves. La exploración de Chávez de la poesía y el espacio físico se expresa mejor en el sexto poema de "entreacto", compuesto por seis palabras y titulado simplemente "6":
La página, "6" está visualmente vacía. La tipografía que compone el cuerpo del poema está rodeada por un mar de espacios en blanco que amenaza con romper lo contenido en el texto. Pero el poema se sostiene y rompe los límites mismos de la página. "Se trata de decir que hay una relación entre el mundo exterior y el mundo interior, que uno tiene dentro de sí mismo", dice Chávez. "Si en algún momento te das cuenta de que el universo es infinito, tiendes a encontrar un límite dentro de ti. También puede suceder lo contrario. También puede sentirse ilimitado por dentro y limitado por fuera; límites en lo que se puede decir, en lo que se ve… En este caso, en este momento, lo que vi fue un mundo ilimitado, contrastado con los límites dentro de mí ", agrega.
Para Chávez, la poesía boliviana tiene el potencial de ser ilimitada, de llegar fuera de la página, fuera del país mismo y quizás incluso más allá del mundo de habla hispana. Partes de la obra de Chávez se han traducido al inglés, alemán y estonio, y su obra ha aparecido en varias antologías publicadas en países de Europa y América. Chávez también destaca el éxito de poetas bolivianos como Jaime Sáenz, cuya obra también ha sido traducida al inglés y al alemán.
Parte del crecimiento de la poesía boliviana se debe a un mayor número de festivales y premios de poesía en el país. La poesía "está muy viva, especialmente en las ciudades", dice Chávez. "Siempre hay algo para leer y, a veces, hay sorpresas. Poco a poco, los poetas locales son cada vez más populares fuera de Bolivia. Participan en festivales literarios y se publican fuera del país ". La poesía de Chávez no sigue un camino consciente. Para él, "no ha habido un plan" en su trabajo. "Intento respetar las formas clásicas del verso, pero también juego con espacios en blanco y caligramas ... Mis experimentos más extremos han sido en Extramuros y Y allá en lo alto un pedazo de cielo".
Parece que el futuro de la poesía boliviana desafiará cada vez más la frontera entre 'adentro' y 'afuera'. 'Los escritores tienen que seguir escribiendo', sugiere Chávez, 'no hay otra forma'. Según él, el problema es de espacios, 'Quizás lo que debe suceder es la creación de más espacios para discutir y debatir lo que se está escribiendo. Los premios literarios también ayudan a llamar la atención, aunque sea momentánea, y a ponerla en el foco de la opinión pública ". La poesía" no es difícil ni hermenéutica ", dice," solo hay que darle una oportunidad "