A Look Inside the Workshop
23 May, 2019 | Pablo Arteaga
Urban living, Enterprise & Industry, Social issues and Lifestyle
Photo Story by Pablo Arteaga
These four very different families are dedicated to the production of alpaca and llama knitted baby and children's clothing for the Bolivian company Nanay. They are part of a network of 600 native local knitters who are heads of family and provide the main income to their homes. 90% of the knitters are women. With the support of Nanay, they have become entrepreneurs and established their own small enterprise.
Workshop 1: The Tapia Family, El Alto
Inés Tapia runs her business with the help of her family. In their workshop, every family member is tasked with specific work. Inés's father and son work the machines. Other family members work across the room: While Inés irons the clothing, her two daughters and two sisters make the clothes by hand. The Tapia family, like many others, are one of the economic pillars of Bolivia. As well as generating resources, they preserve Bolivian customs and traditions through textile manufacturing.
Workshop 2: Rosalía Ajnota, El Alto
Rosalía Ajnota started working as a seamstress when she was just 15 years old. She learned to weave both on a machine and by hand using knitting-needle techniques. After 23 years she opened up her own shop, where she now makes every type of clothing. Married with two children, she's based in El Alto, and she employs two workers to help her manufacture garments. The winter is the busiest time for her business, due to the lower temperatures. Rosalía also works for other companies, such as Nanay, which produces high-quality items made of alpaca wool.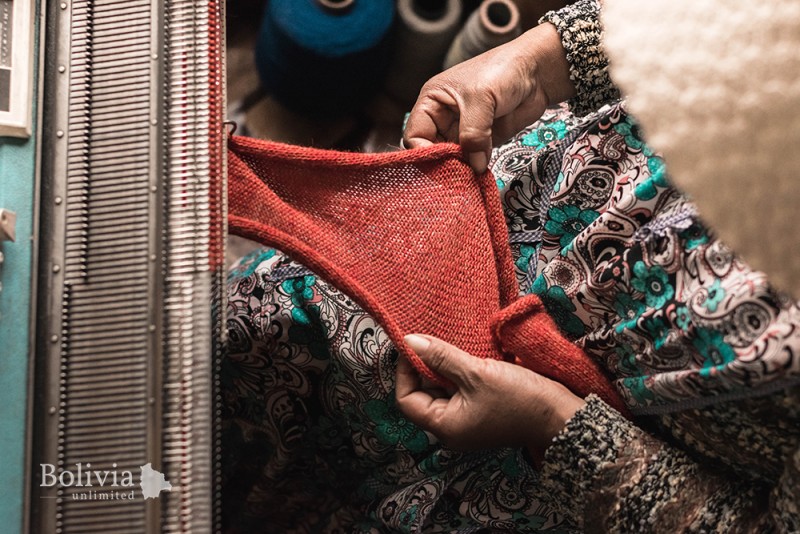 Workshop 3: Ana Luisa Valencia, El Alto
Ana Luisa, 43, with her mother Juana, 78, and her friend Margarita, manufacture clothes in El Alto, at more than 4,000m above sea level. Luisa's been at this job for over a decade, having learned the trade alongside her mother and other seamstresses who passed on their knowledge from generation to generation. Six years ago, Luisa and her mother opened their own shop in their house; now they work with Margarita to make over 1,900 items per year. Luisa's mother, who has been doing this work for more than 40 years, said that the techniques they use haven't changed with time, and the qualities that matter most are patience and perseverance.

Workshop 4: Sabina and Adela, La Paz
Sabina learned weaving from a group of women artisans who had already spent a lifetime working in the textile industry. That's where she met Adela, who became her business partner, and together they opened their own workshop in Sabina's house. Over the years, Sabina perfected her technique and taught Adela everything she knew about textiles. They've been working together now for almost five years in their workshop, a tiny room stuffed with two knitting machines and from where they carry out all their work.